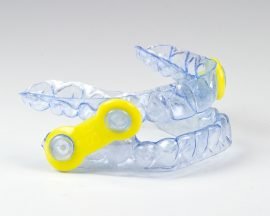 SGS and The Myerson EMA First Step Oral Appliance Therapy
The dental sleep medicine and dental continuing education company is pleased to be a part of the EMA First Step dental device, used in the treatment of snoring and sleep apnea.
Through the Sleep Group Solutions and EMA partnership, patients diagnosed with OSA will receive immediate treatment for their snoring and sleep apnea.  Introducing the EMA First Step.  A temporary oral device allowing the patient to receive same-day treatment.
Most patients who are diagnosed with OSA, and receive treatment through Oral Appliance Therapy, need to wait up to one month before their custom device is delivered.  "The EMA First Step device is made chairside, and patients are walking out with a temporary appliance for their health condition until their custom appliance is delivered from a certified dental lab."  says Rani Ben-David, President of Sleep Group Solutions.
During the two-day dental continuing education seminar from SGS, dentists will have the opportunity to meet a laboratory representative fabricating the Oral Appliances. Since dentists are encouraged to be familiar with all the sleep apnea appliances on the market, SGS showcases all major appliances during their sleep seminars.  Appliance coverage during the lecture includes Dorsal, Herbst, Cad Cam, EMA and more.
The EMA First Step appliance from Myerson, can be custom fit in about 15 minutes.  Dentists can also have one of the EMA certified labs fabricate the temporary device on their behalf. The EMA First Step is the perfect way for patients to discover how they can get a better night's sleep, starting tonight.
Certified dental labs fabricating the EMA devices include Glidewell, Great Lakes, Keller Lab, Space Maintainers, David's Dental Lab, and many more.  For more information on the Sleep Group Solutions two-day sleep seminar, go here.  To inquire about the Myerson EMA First Step device, check us out here.
About EMA creator, Dr. Don Frantz
DON E. FRANTZ, DDS, has practiced orthodontia for over 40 years. He is co- developer of the Elastic Mandibular Advancement (EMA®) appliance, which has been used successfully by many patients for the management of sleep-related concerns. Dr. Frantz currently resides in Tacoma, WA, where he is working with Dr. Farrand C. Robson for Oral Systemic Balance.
About Sleep Group Solutions
Sleep Group Solutions is an airway diagnostic technology company serving the needs of physicians and dentists interested in screening, diagnosing and treating sleep apnea, oral appliance therapy, and other upper airway disorders.  Sleep Group Solutions offers the latest screening and diagnostic equipment solutions for patients with allergy, sinus congestion, rhinitis, deviated septum, nasal polyps, snoring and sleep apnea.  SGS offers the most comprehensive dental sleep medicine CE seminars in the industry focused on teaching dentists the protocols needed to make the treatment of snoring and sleep apnea part of their practice.  Sleep Group Solutions offers sleep study interpretation, oral appliances (Norad Boil & Bite, Respire), online directory and online marketing for CPAP Intolerant patients.  SGS is the manufacturer of the Eccovision Systems Rhinometer and Pharyngometer, and offers Home Sleep Testing devices. SGS provides Dental Continuing Education and is the only company in the Dental field that provides a full solution.