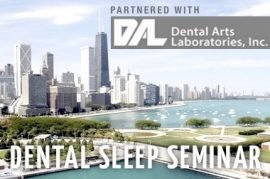 Sleep Group Solutions and Dental Arts Laboratory Team-up for Oral Appliance Excellence
The dental sleep medicine and dental continuing education company, Sleep Group Solutions, is pleased to partner with leading dental laboratory, Dental Arts Laboratory. The upcoming Chicago Sleep Seminar is on December 2-3, 2016. 
(Hollywood, FL)  Dentists attending the December 2-3, 2016 Sleep Seminar with Sleep Group Solutions will receive a special added value to the 'normal' seminar. Special guest, Dental Arts Laboratory, will be on hand to discuss their lab and various oral appliances. Attendees will get a hands-on experience, with a question and answer session after presentation.
"We love teaming up with dental labs. They add an extra special segment to our live lectures, and Dental Arts lab is an all-star team, we look forward to our Chicago lecture with them." says John Nadeau, SGS Vice President. During the December lecture, Dental Arts will have VP of Sales and Marketing Rob Colgin, along with Chicagoland Sales Rep Rich Hartman. The Dental Arts representatives will be on hand to go over their various sleep appliances. Currently the lab fabricates the following appliances: Myerson EMA, Narval CC , TAP 3 and TAP 3 elite, and the ZQuiet pro- plus.
Being an EMA certified lab, Dental Arts will also discuss their latest oral appliance, the EMA First Step device. The EMA First Step device is made chairside, and patients are walking out with a temporary appliance for their health condition, while their custom appliance is delivered from a certified dental lab.
For more information on the Sleep Group Solutions two-day sleep seminar, go here.