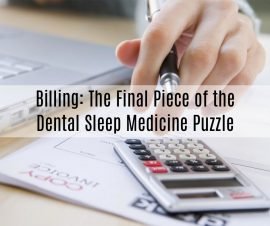 The Road to Streamlined Medical Billing in Dental Sleep Medicine
Medical billing in dental sleep medicine (DSM) has long been a complex and challenging process. DSM professionals, often find themselves struggling to navigate the intricacies of medical insurance billing. However, recent developments and innovations are making this journey toward streamlined medical billing in DSM a lot smoother. In this article, we'll explore the challenges and how to streamline medical billing in DSM and best practices that are helping practitioners simplify the process and focus on providing quality care to patients.
The Complex World of Medical Billing in DSM
Billing for DSM services is far from straightforward. The challenges stem from the unique position that DSM providers occupy in the healthcare system. They bridge the gap between dental care and medical care, treating sleep-related disorders like obstructive sleep apnea (OSA) through oral appliance therapy. As a result, dental sleep medicine providers experience medical insurance challenges they've never experienced in the dental world.
Challenges Faced by DSM Practitioners
Code Confusion: DSM providers must use specific medical billing codes, such as Current Procedural Terminology (CPT) codes and Healthcare Common Procedure Coding System (HCPCS) codes, to bill for their services. These codes can be complex and change over time, in addition to having code modifiers and requirements on when and who can bill for them add to the complication.
Out-Of-Network Billing: 99% of dentists are out of network with all medical insurance plans and thus must bill insurance as an OON provider. Out of network coverage is limited or non-existent, leading to high patient out of pocket costs and lower case acceptance.
The Disappearing GAP Waiver: In the early days of dental sleep medicine most providers would attempt to get a GAP or Network Insufficiency waiver for patient coverage (essentially paying you as an in-network provider because there is nobody in-network nearby who can offer the service). Most GAP requests in 2023 are blocked leaving the dentist with no options for insurance payment.
Software Confusion: Medical billing from a dental office requires learning complicated new software and rules for when and how various codes can be billed.
Physician Expectations: Growing your DSM practice involves establishing referral relationships with area physicians. In a recent survey of Sleep MD's their #1 hesitation about referring to a dental office for a sleep appliance is the fact that the dentist is out of network and the patient costs would be prohibitively high.
Streamlining Medical Billing in DSM
In the face of these challenges SGS set out to develop a patient, physician and dental practice friendly billing option that allows for consistent, predictable, reimbursement while taking the burden away from dental admin teams. As part of the DSM business builder program SGS client practice will benefit from:
In-Network Reimbursement: The SGS Sleep Impressions practice is a nationwide network of DSM professionals with pre-existing in-network contracts for most major medical payers including BCBS, Aetna, Cigna, United Healthcare, Humana, TriCare and the VA Healthcare System. New partners are able to benefit from these established relationships and contracts
End-to-End Diagnostics & Billing: Our platform includes a telehealth system for face-to-face visits with a board-certified sleep medicine physician. The physician will order and deliver sleep tests and prescribe oral appliance therapy to be filled by our network dentists as in-network providers. Our patient advocate team will verify benefits, collect co-pays / deductibles from patients and schedule them for records appointments back in the dental office.
Nationwide VA Network: Our Sleep Impressions practice is in-network coast-to-coast with the VA. New partner practices are added to existing Optum or TriWest contracts to be able to provide covered sleep appliance services to VA patients nationwide.
"Hands off" case presentations: Dental teams will never have to guess benefits, determine co-pays, collect fees from patients or try to figure out how much to charge – it's ALL done for you. Let SGS handle the billing and you focus on providing the best clinical outcomes.
The journey toward streamlined medical billing in dental sleep medicine is in reach. By embracing specialized software, ongoing education, and effective strategies, DSM practitioners can simplify the billing process and focus on what they do best – providing quality care to patients with sleep-related disorders.
If you're ready to learn about adding Sleep Medicine to your dental practice, call us now at 1-888-608-4965 or request a free consultation!