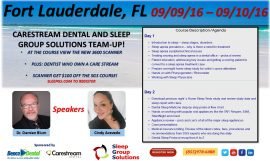 SGS Team-up with Carestream Dental and Benco for Upcoming Ft. Lauderdale Sleep Apnea Seminar
The dental sleep medicine and dental continuing education company, Sleep Group Solutions, is pleased to partner with leading dental companies.   The Ft. Lauderdale, FL Sleep Seminar is on September 9-10th at the SGS Headquarters.
(Hollywood, FL)  Join Sleep Group Solutions in Ft. Lauderdale on September 9-10, at the SGS Headquarters for a two-day dental continuing education sleep seminar.  Course partners include Benco Dental, and Carestream Dental.  Dentists owning a Carestream Scanner receive $100 off registration, along with 16 CEU for the course.
During the dental sleep medicine September 9-10th Sleep Seminar, dentists and staff members will be able to see and demo the new 3600 Scanner from Carestream.  Dentists currently owning a Carestream Scanner will receive $100 off the normal registration price of $995.  Instructor of the upcoming course, Dr. Damian Blum is looking forward to the companies coming together.  "This will be an excellent course.  Our partners for the course are juggernauts in the industry, and SGS knows Sleep, this partnership will make for a great seminar."  Says Dr. Blum.
Together with Cindy Acevedo, attendees can expect to learn about sleep apnea prevalence, treatment and screening options, home sleep testing, instrumentation such as Rhinometer and Pharyngometer, oral appliances, medical billing, patient education and more.  The September course is being held at the Sleep Group Solutions headquarters located at 2035 Harding St. #200, Hollywood, FL.
To learn more about the SGS 2-day sleep seminar, or to register, go here.
About Sleep Group Solutions
Sleep Group Solutions is an airway diagnostic technology company serving the needs of physicians and dentists interested in screening, diagnosing and treating sleep apnea and other upper airway disorders.  Sleep Group Solutions offers the latest screening and diagnostic equipment solutions for patients with allergy, sinus congestion, rhinitis, deviated septum, nasal polyps, snoring and sleep apnea.  SGS offers the most comprehensive dental sleep medicine CE seminars in the industry focused on teaching dentists the protocols needed to make the treatment of snoring and sleep apnea part of their practice.  Sleep Group Solutions offers sleep study interpretation, oral appliances (Norad Boil & Bite, Respire), online directory 1800SleepLab.com and online marketing for CPAP Intolerant patients.  SGS is the manufacturer of the Eccovision Systems Rhinometer and Pharyngometer, and offers Home Sleep Testing devices.  To be a partnering dental lab with Sleep Group Solutions and present during their 2-day lectures, inquire here.