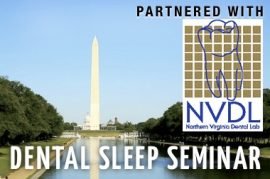 Join Sleep Group Solutions and Northern Virginia Dental Lab for a two-day Sleep Seminar in Washington, D.C.
The Northern Virginia Dental Lab, and dental sleep medicine education company, Sleep Group Solutions, will be presenting at the Embassy Suites Chevy Chase Pavilion in D.C. on November 11-12, 2016.
(Washington, D.C.)  Join Sleep Group Solutions and partners for a 16 CEU Dental Sleep Medicine Seminar in Washington D.C. Course partners for the November lecture include the prestigious Northern Virginia Dental Lab. The dental lab will be on-hand to showcase products, and give a brief lecture on services provided.  
During the dental sleep medicine November 11-12th Sleep Seminar, dentists and staff members will learn sleep apnea prevalence, treatment and screening options, home sleep testing, instrumentation such as Rhinometer and Pharyngometer, oral appliances, medical billing, patient education and more.  Lecture instructor, Dr. Barry Freydberg says, "Together with Northern Virginia Dental Lab, we have got you covered in all your dental sleep medicine needs. My lecture is sure to inspire and get you up and running to do sleep."
"Northern Virginia Dental Lab is excited to be working with a great company that helps to educate dentists about the exciting changes happening in Sleep Apnea dentistry." says Kris Schermerhorn, CDT, of Northern Virginia Dental Lab. Mr. Schermerhorn will be lecturing about the lab, with ample Q & A time available. Established in1962 NVDL offers personalized service, often meeting with dentists for consultations and case placement. They are a registered implant lab and are also a certified Captek and Myerson EMA lab. 
16 CEU's will be provided along with documents and handouts. Join SGS on November 11-12th at the Embassy Suites in D.C. with Dr. Barry Freydberg. To register or learn more, go here.