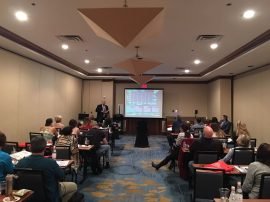 2016 Dental Continuing Education Seminars Filling-up Fast
Dental sleep medicine company, Sleep Group Solutions 2016 sleep seminars are nearing capacity. Remaining lectures include Salt Lake City, Tampa, Huntington Beach, NYC, Dallas and Chicago.
(Ft. Lauderdale, FL)  With only a handful of lectures left in 2016, dentists and hygienists are encouraged to register quickly, for the two-day dental continuing education sleep seminar. Pioneers in Dental Sleep Medicine education, instrumentation and in-office training, Sleep Group Solutions have only ten more lectures left in the year. Upcoming locations include Utah, Florida, California, New York, and Illinois.
Known as the leaders in Dental Sleep Medicine, the Sleep Group Solutions lecture offers vital information on the science and medical reasoning behind OSA, screening and treatment methods, home sleep testing, insurance and billing, working with physicians, and more.  "If Sleep is on your agenda to raise revenues in 2017, attending now is a major plus." Says Dental Sleep Medicine expert, Dr. Barry Freydberg. "Come to any one of our lectures, and you will see how Sleep is a money-maker, and practice–saver."
"Getting started in Sleep sooner than later is what's setting dentists apart from the heard." says Sleep Group Solutions President, Rani Ben-David. For dentists and hygienists needing CEU for 2016, the SGS lecture provides 16 credits, and lifelong knowledge.
2016 Lectures include:
Nov 2016
BOSTON, MA – 11/18/2016 – 11/19/2016
SAN FRANCISCO, CA – 11/18/2016 – 11/19/2016
Dec 2016
CHICAGO, IL – 12/02/2016 – 12/03/2016
TAMPA, FL – 12/02/2016 – 12/03/2016
DENTAL STAFF BOOT CAMP – 12/02/2016 – 12/03/2016
DALLAS, TX – 12/09/2016 – 12/10/2016
NEW YORK CITY, NY – 12/09/2016 – 12/10/2016
HUNTINGTON BEACH, CA – 12/16/2016 – 12/17/2016
SALT LAKE CITY, UT – 12/16/2016 – 12/17/2016
TUCSON, AZ – 12/16/2016 – 12/17/2016
Lecturers for the company include wet-finger dentists who are experts in the field, and run successful Sleep practices. To learn more about the SGS seminar, or instructors, go here.
About Sleep Group Solutions
Sleep Group Solutions is an airway diagnostic technology company serving the needs of physicians and dentists interested in screening, diagnosing and treating sleep apnea and other upper airway disorders.  Sleep Group Solutions offers the latest screening and diagnostic equipment solutions for patients with allergy, sinus congestion, rhinitis, deviated septum, nasal polyps, snoring and sleep apnea.  SGS offers the most comprehensive dental sleep medicine CE seminars in the industry focused on teaching dentists the protocols needed to make the treatment of snoring and sleep apnea part of their practice.  Sleep Group Solutions offers sleep study interpretation, oral appliances (Norad Boil & Bite, Respire), online directory 1800SleepLab.com and online marketing for CPAP Intolerant patients.  SGS is the manufacturer of the Eccovision Systems Rhinometer and Pharyngometer, and offers Home Sleep Testing devices.  To be a partnering dental lab with Sleep Group Solutions and present during their 2-day lectures, call 954-606-6960 Ext 2008.