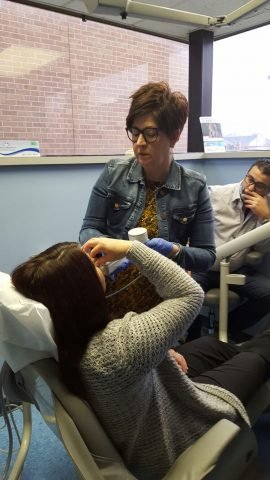 The Medical Role of Hygienists in Dental Sleep Medicine
Is there anyone in a better position than the Hygienist to discover the signs and symptoms of Obstructive Sleep Apnea? Your field of operations is right there at the opening of the airway.
You can't miss the signs.
You can see if a large tongue is blocking the passageway to the pharynx. You can see if the sides of the tongue show a scalloping which is indicative of a forceful gasping for precious air. Is the airway blocked laterally by large fauces or tonsils? You can't miss the patient's Mallampati score.
Do the occlusal surfaces of the posterior teeth show evidence of bruxism? Are the incisal edges of the anterior teeth worn down? Does your patient have acid reflux? TMJ pain? A severely receded (retrognathic) chin?
And in your interview with your patient do you learn that your patient has daytime sleepiness, often dozes off while watching TV or at the movies, and even worse, feels sleepy while driving?
Were you informed that the patient's spouse complains about loud snoring?
Do you see an overweight patient with a large diameter neck?
Listen to the alert!
These are some of the more common signs and symptoms of obstructive sleep apnea. They are so easy to see. These warning signs are sitting right there in the hygienist's field of operations and they are screaming out, "Notice us. We are here to destroy your patient". "We can cancel out all the good that you do for this patient."
For a diligent Hygienist to miss these warnings would be to surrender a great opportunity to help patients enjoy a better quality of life and, in fact, to save lives. The rewards to you, your practice, and your patients are considerable- both emotionally and financially.
Take action!
Learn more about incorporating Dental Sleep Medicine into your practice, by attending a lecture with Sleep Group Solutions. Be sure to bring your key staff personnel with you when you attend our 2-day dental sleep medicine lecture!