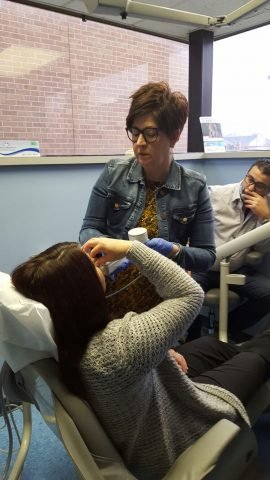 Ready to Change Your Patient's Lives for the Better?
I want to share my new passion for what can change your patient's and your lives, by introducing the treatment of sleep apnea and snoring to your practice.
There are practice and life changing benefits to adding dental sleep medicine to your practice. And this is true for new, mature and even near retirement dentists!
I had taken one sleep class prior to the Sleep Group Solution class. It was after that class, that I jumped in! And now, having given over 35 two-day sleep classes, as well as other classes not sponsored by Sleep Group Solutions, and having practiced it for 7 years, I want to take the time to explain why it is so incredible.
If you are a senior dentist, like myself, it will prolong your career by making it fun and profitable. Four attendees, in 2016, told me they left retirement to begin treating sleep apnea. Others have delayed retirement. Why? It's physically easier than general dentistry, mentally stimulating, rewarding for lives prolonged and discovering imminently serious medical issues, and on top of it, financially profitable. And if your body is feeling the effects of years at the chair, treating sleep disorders can be a relief!
If you are a busy or want to be busier midlife practitioner, you can do the same as a senior, but add revenue, make it staff driven, and often add a practitioner to do general dentistry as you get too "busy" due to patient demands. That's a good thing! And of course, the additional services make a practice more valuable in a future sale, merger, or for adding a partner or associate.
If you are a young or new practitioner, even starting out, what can be better than offering this additional service to the 34% of you adult patients who might be candidates for this treatment. And, of course, it will help pay the bills and loans.
Many of us don't realize that the doctor can have staff actually perform the service. Impressions, bites and their associated airway measurements.
For myself, I love to share cases and videos of patient's whose lives I've changed or saved. No other "primary care" medical practitioner takes on this responsibility en masse. The medical model doesn't allow it, and few PCP's get involved.
BUT, we work next to the airway, and in addition to the medical histories, we see the signs of sleep disorders every day in the dentition and surrounding tissues. Save some lives, make your day easier, and add incremental revenue, as adding dental sleep medicine doesn't increase your overall overhead.
Head into 2017 with new passion.
Hope to see you at one of my courses, Dr. Barry Freydberg