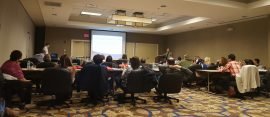 How one astute dentist thanked the assistants who made his practice successful.
This year the week of March 6-12 was designated as Dental Assistants Recognition Week for the United States and Canada.
One clever dentist, Dr. Mark Boukzam of Deerfield, Florida,  gave his team a reward that will last a lifetime. He trained his loyal team in Dental Sleep Medicine. "We realized that many of our patients were suffering from sleep apnea and I wanted to be able to help them." Dr. Boukzam said.  After receiving training in the Sleep Group Solutions' seminar, he implemented a program where every staff member could benefit from helping their patients enjoy healthy, life-supporting sleep. "By involving every member of my team in screening and interviewing our patients," Dr. Boukzam adds, "I am able to show them that I view them as total health care professionals. They helped me build this dental practice and I want to share the success with them."
Liz, the practice's Patient Care Coordinator says, "After 15 years in dental practice this is the most rewarding service I have participated in. I feel I am truly improving the quality of life for my patients.. and in fact, saving lives."
There is no greater gift we can give ourselves than to help our fellow men and women.
  The theme for this year's event was "Our mission is to serve, our passion is to care,"
Dental Assistants' Recognition Week
  Each year, dentists take a week to honor dental assistants for their role on the dental team, recognizing their broad spectrum of duties and highlighting their often unheralded contribution to quality dental care. The

 

American Dental Assistants Association, American Dental Association, Canadian Dental Assistants Association and Canadian Dental Association

 

jointly recognize the observance.

 

Dental assistant associations, dental assisting schools, and U.S. Army and Air Force dental clinics all join dental offices

 

in honoring dental assistants during this designated week.
Mark your calendar for Dental Assistants' Recognition Week for 2017, and so something BIG for them.