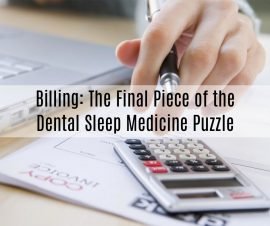 Billing: The Final Piece of the Dental Sleep Medicine Puzzle
Medical codes, which are typically seldom used by dentists, are now providing the missing link to make payment for life-saving medical services become simpler and quicker for dental professionals.
A dentist or a dental auxiliary has two options for benefiting by using medical codes. They can learn the codes, the system and the protocol for medical billing and then process all the billing themselves. Another option is to utilize the services of a professional billing company. This company will set up a method of receiving a dental treatment plan from the dental office and then process the invoice for the benefits (insurance) company. The billing company will be paid a commission for each case by the dental practice.
If the dental practice chooses the option to process the claims themselves they will obviously save any commission paid out to a billing company. If they want to process the claims themselves they would need to learn the system completely so as not to lose out on any possible services that can be billed and to be able to do the process quickly, completely and correctly.
The owners of any dental practice would make that decision on which option to choose.
In any case, once the medical billing process is in place, a dental practice will be able to achieve the great rewards from a successful dental sleep medicine service.
You can learn more about Medical Billing and how to have a successful Dental Sleep Medicine practice at one of Sleep Group Solutions 2-day dental continuing education courses. To view dates click HERE.
Dr. Charles Kravitz, among other responsibilities to SGS, manages the Dental Society speaking engagement program for SGS. Organizations of Dentists from coast to coast have benefited by hosting SGS speakers at their meetings. He is also the SGS LinkedIn coordinator, managing and writing for over 50 networks with over 300 million members. 
In 1995 Dr. Kravitz founded Advance! Dental Consulting which affects the realization of dentists' dreams. He is a natural teacher and motivator and enjoys helping people who have the desire to be outstanding in their field.
As a Performance Coach and Director of Professional Relations for SGS he helps thousands of dental practitioners and their teams learn to serve patients afflicted with Obstructive Sleep Apnea.