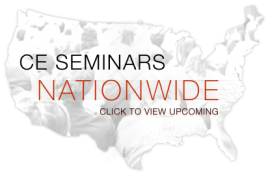 Dental Continuing Education: Did You Know Untreated Sleep Apnea is a Major Risk Factor of Strokes?
The dental treatment of snoring and sleep apnea shares numerous comorbidities.
Be aware that untreated Sleep Apnea is a major risk factor of strokes. One out of 15 adults has moderate to severe sleep apnea and men with moderate to severe sleep apnea are 4 times more likely to have a stroke.  This has practitioners heading for the classroom, for some dental continuing education in Sleep.
A 2014 study published in the Journal of Clinical Sleep Medicine showed that people with moderate to severe obstructive sleep apnea were four times more likely to have a stroke even when results were adjusted for factors like obesity, cholesterol levels, hypertension, and smoking.
How?  Simply stated, when there are repeated cessations in breathing, as in Obstructive Sleep Apnea, adequate oxygen is not carried to the brain.
The National Stroke Foundation explains that "sleep apnea can be an after effect of stroke, but can also be the cause of a first time or recurrent stroke. The condition causes low oxygen levels and high blood pressure, both of which can increase the risk of a future stroke."
Isn't this another good reason for you to get a sleep test?