Whether this is your first foray into Dental Sleep Medicine or you've had a few false starts, our courses are the next step you need to THRIVE in Dental Sleep Medicine.  Don't just take our word for it.  We've educated over 11,000 clinicians across the country.   The numbers don't lie.
Our 2 day seminars give you the education you want to take action you need. Sure, you'll learn a lot. So will your team.  But most important, you'll have a clear map about what you need to do next, to take action to identify more patients, move them along the proper diagnostic pathways, efficiently and effectively treat them, and realize increased production. 
No matter where you are in the U.S., we have a seminar near you this year.  Don't sleep on Dental Sleep Medicine one more night. Your patients need you.
Check out our list of dynamic courses presented by dynamo speakers that are actively treating sleep patients in their own practices.  We'll have fun.  We'll learn from each other. We'll all be better for it. 11,000 clinicians and over 100,000 patients.  You're next.
Register today below↓️.

DATE/TIME
January (01/10/2020 - 01/11/2020)
8:00 am - 6:00 pm

LOCATION
Sleep Group Solutions (#200)
2035 Harding Street #200
Hollywood, FL, 33020
Phone:
(for hotel reservations only)
Note: Location may be subject to change.
INSTRUCTOR
See Description
TYPE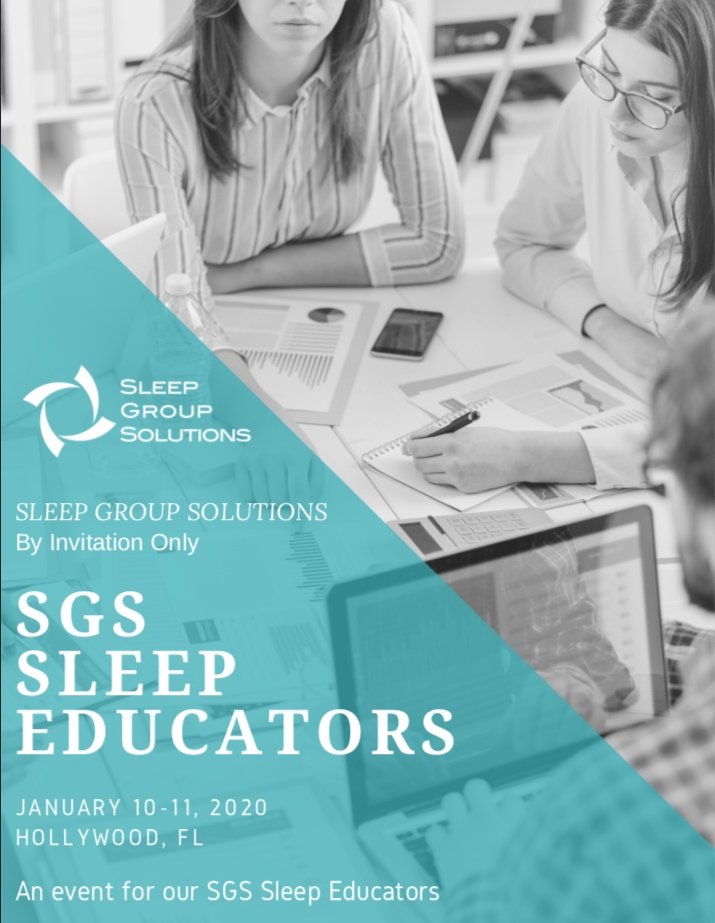 COURSE DESCRIPTION/AGENDA
This is a MUST attend for any dental office that is looking to implement a Sleep Protocol, or learn how to increase existing Sleep revenues.
We have so many exciting things going on at Sleep Group Solutions! We are growing and spreading the word about Obstructive Sleep Apnea to more dentists than ever!
To help us spread the word and help dental practices become successful, we need experienced Sleep Care Coordinators to join our team. Because of your leadership skills, your passion for caring for your patients, and your experience with the
Eccovision system, I would like to personally invite you to join the SGS Training Team. We are developing this elite group of trainers to be able to travel to offices and train new teams.
If you are interested in becoming part of the SGS Training Team, please contact me or Leyla Verdooren directly at rebecca@sleepgs.com or leyla@sleepgs.com. You can also call me if you have any questions at 305-830-0327. This is a nicely compensated position – so if you are looking for extra income – this is a GREAT opportunity!
You are specially chosen – I believe in all of you. We will be having a VIP and training event January 10- 11, 2019 at the SGS home office. Contact either Leyla or me for travel information.
Looking forward to a Fantastic 2020!
Rebecca Layhe
Director of Education Sleep Group Solutions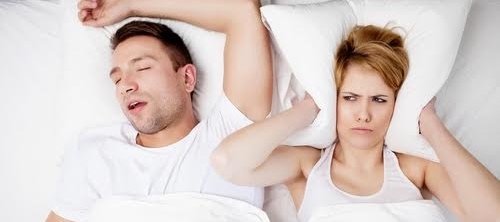 1 in 4 adults suffer from sleep apnea.
Sometimes it seems like the only thing more prevalent than sleep apnea is courses for dentists that want to incorporate dental sleep medicine into their practices. What should you do then?  How can you ensure the course you register for will give you the information you need to get informed and get going? How about following in the footsteps of more than 11,000 of your colleagues that have learned to implement Dental Sleep Medicine at one of our previous seminars?
SGS is excited to announce our course offerings for you.  During these events our world-class experienced Dental Sleep Medicine clinicians will guide you and your team through the following:
Day 1
● Sleep 101 – sleep stages, disorders and the need for sleep apnea treatment
● Sleep apnea symptoms/clinical issues
● Improving Case Acceptance - Treating snoring and sleep apnea in a dental office.
● Prepare overnight home sleep study for select course attendees
● Hands on with Pharyngometer / Rhinometer for airway testing
● Working with Sleep Physicians and Building relationships with local MD's
Day 2
● Download previous night's Home Sleep Tests study and review study data and sleep report with class
● Dental Sleep Medicine step-by-step protocol flow chart
● Oral Appliance Pro's & Con's: Dorsal, Herbst, EMA, TAP, Panthera, and SomnoMed
● Case presentations and How to Market a Sleep Practice
● Review of the latest codes, fees, procedures with medical billing and Medicare.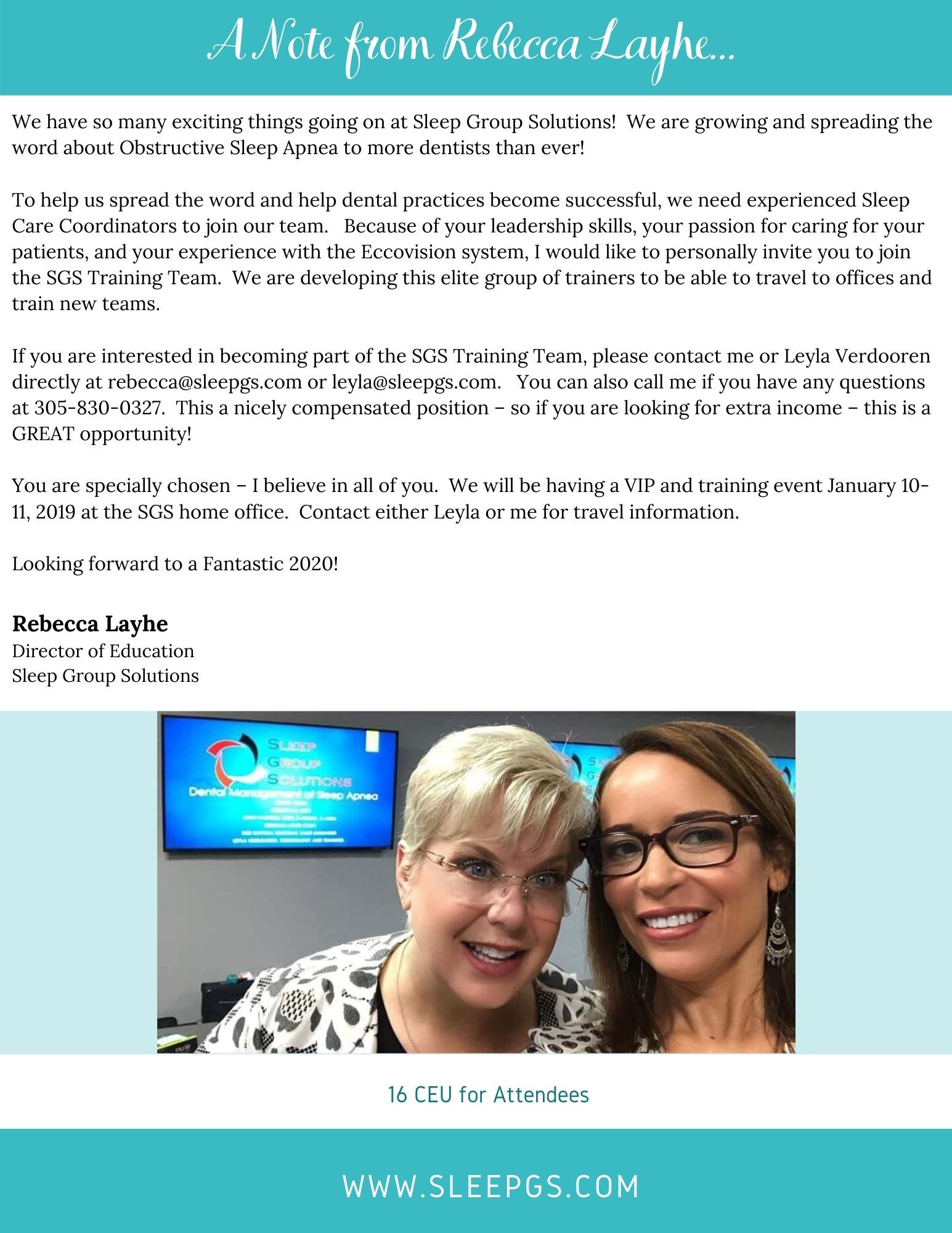 16 CEU for Attendees