Whether this is your first foray into Dental Sleep Medicine or you've had a few false starts, our courses are the next step you need to THRIVE in Dental Sleep Medicine.  Don't just take our word for it.  We've educated over 11,000 clinicians across the country.   The numbers don't lie.
Our 2 day seminars give you the education you want to take action you need. Sure, you'll learn a lot. So will your team.  But most important, you'll have a clear map about what you need to do next, to take action to identify more patients, move them along the proper diagnostic pathways, efficiently and effectively treat them, and realize increased production. 
No matter where you are in the U.S., we have a seminar near you this year.  Don't sleep on Dental Sleep Medicine one more night. Your patients need you.
Check out our list of dynamic courses presented by dynamo speakers that are actively treating sleep patients in their own practices.  We'll have fun.  We'll learn from each other. We'll all be better for it. 11,000 clinicians and over 100,000 patients.  You're next.
Register today below↓️.

DATE/TIME
October (10/23/2020 - 10/24/2020)
8:00 am - 6:00 pm

LOCATION
CAIN WATTERS & ASSOCIATES
6900 Dallas Parkway
Plano, TX, 75024
Phone:
(for hotel reservations only)
Note: Location may be subject to change.
INSTRUCTOR
Dr. Kent Smith
TYPE
COURSE DESCRIPTION/AGENDA
This is a MUST attend for any dental office that is looking to implement a Sleep Protocol, or learn how to increase existing Sleep revenues.
This is a two day weekend course (Friday and Saturday) that consists of 15 hours of lecture and one hour of hands-on instruction with Dr. Kent Smith, Diplomate of the American Board Dental Sleep Medicine (not an ADA recognized specialty) and current President of the American Sleep and Breathing Academy. The course will be held at the Cain Watters & Associates facility (20 minutes from DFW Airport).
Pricing is as follows:
$1895 per doctor
$695 per team member
Lunch will be catered both days and Friday night dinner will also be provided for anyone wishing to join us.
Attending doctors receive a coupon for 50% off a MicrO2 device for themselves, 50% off for their first case, and a free sample device after their second patient appliance.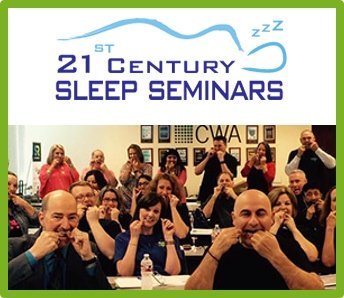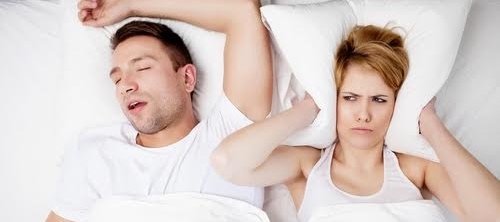 1 in 4 adults suffer from sleep apnea.
Sometimes it seems like the only thing more prevalent than sleep apnea is courses for dentists that want to incorporate dental sleep medicine into their practices. What should you do then?  How can you ensure the course you register for will give you the information you need to get informed and get going? How about following in the footsteps of more than 11,000 of your colleagues that have learned to implement Dental Sleep Medicine at one of our previous seminars?
SGS is excited to announce our course offerings for you.  During these events our world-class experienced Dental Sleep Medicine clinicians will guide you and your team through the following:
Day 1
● Sleep 101 – sleep stages, disorders and the need for sleep apnea treatment
● Sleep apnea symptoms/clinical issues
● Improving Case Acceptance - Treating snoring and sleep apnea in a dental office.
● Prepare overnight home sleep study for select course attendees
● Hands on with Pharyngometer / Rhinometer for airway testing
● Working with Sleep Physicians and Building relationships with local MD's
Day 2
● Download previous night's Home Sleep Tests study and review study data and sleep report with class
● Dental Sleep Medicine step-by-step protocol flow chart
● Oral Appliance Pro's & Con's: Dorsal, Herbst, EMA, TAP, Panthera, and SomnoMed
● Case presentations and How to Market a Sleep Practice
● Review of the latest codes, fees, procedures with medical billing and Medicare.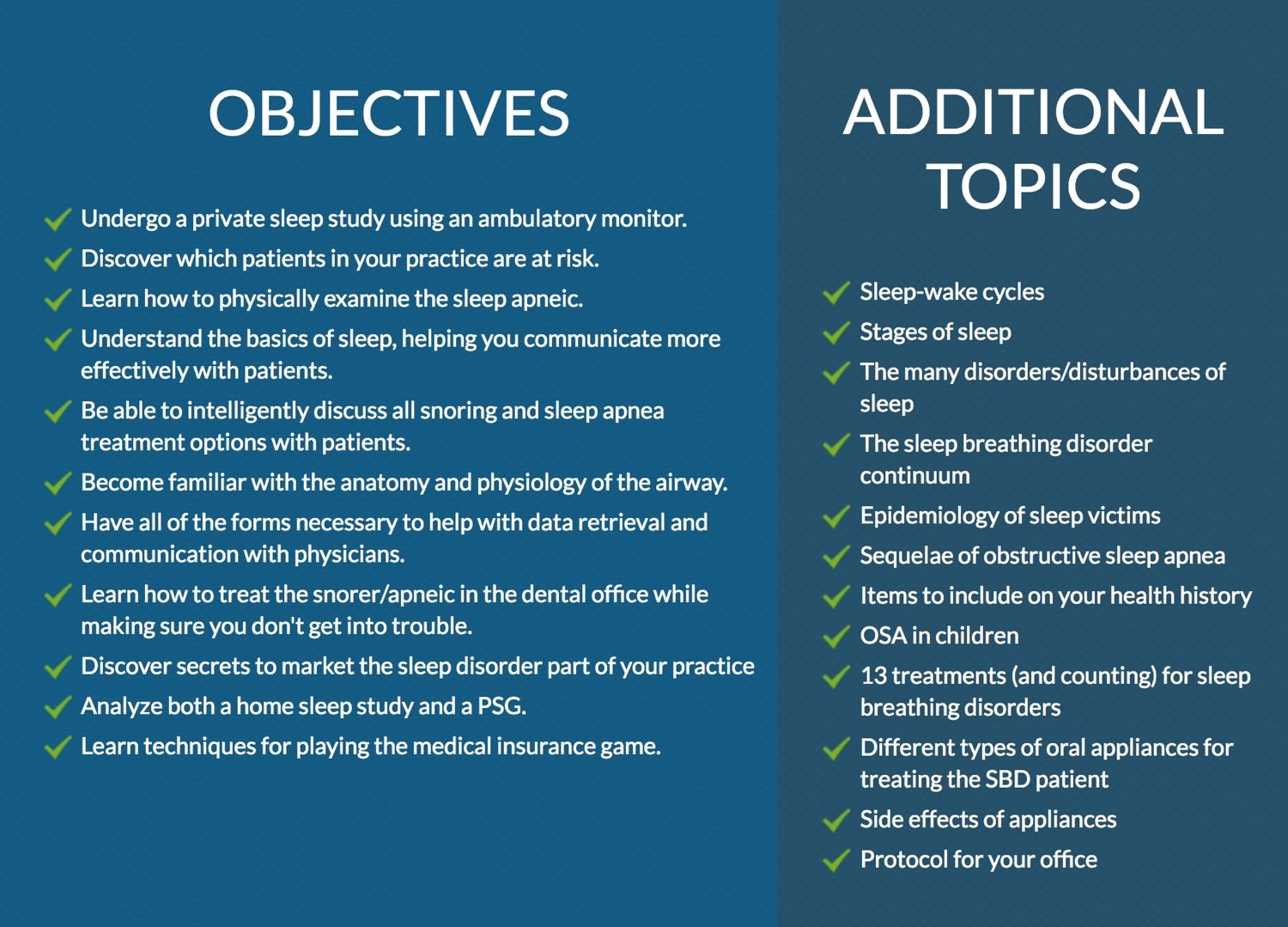 COURSE SCHEDULE
FRIDAY
| Time | Event |
| --- | --- |
| 8:30am | Check-In & Breakfast |
| 9:00am | Lecture: Basics of Sleep |
| 10:30am | Break |
| 10:45am | Lecture: Sleep Disorders |
| 12:00pm | Lunch |
| 1:00pm | Lecture: Medical Insurance Billing |
| 2:00pm | Break |
| 2:15pm | Lecture: OSA sequellae, pathogenesis, signs and symptoms |
| 3:30pm | Break |
| 3:45pm | Lecture: Diagnosis of OSA |
| 4:30pm | Watch-PAT |
| 4:45pm | Hands-on: Attendees fitted for Ambulatory Monitors |
| 6:00pm | Dinner at a nice restaurant |
SATURDAY
| Time | Event |
| --- | --- |
| 8:30am | Breakfast |
| 9:00am | Lecture: Treatment Options |
| 10:00am | Lecture: Appliance Overview |
| 11:00am | Break |
| 11:15am | Eccovision Pharyngometer & Rhinometer Hands-On: George Gauge Demo |
| 12:00pm | Lunch |
| 1:00pm | Lecture: Protocol |
| 2:15pm | Read sleep studies of attendees |
| 3:00pm | Lecture: Marketing |
| 4:00pm | Adjourn |
WHERE TO STAY
If you're not from the DFW area, you may be unsure of which hotel to book a room in during your time here. In order to save you valuable time and research, we offer some helpful information on the topic below.
Hotel Selections (close to Cain, Watters & Associates Facility)
You have a few options. For the two Marriott locations, you will receive special rates if you use the link below. The Marriott at Legacy is considered our host hotel, although the seminar is not held there. Cain, Watters & Associates has negotiated rates that we can take advantage of, but only if you stay at either of the Marriott hotels AND only if you stay two nights. Be sure to register very soon so you have your choice. If you would like more detailed information on the hotel selections, contact Madison.
To register online, go to www.marriott.com/dalpt and enter the code CWL in the promotional/corporate code box. Please keep in mind that once all the rooms at our special rate are sold out, there are no more available at that rate. However, rooms will probably still be available at regular rates.
Dallas/Plano Marriott at Legacy Town Center
7121 Bishop Road
Plano, Texas 75024
Phone: (972) 473-6444
Courtyard Marriott Dallas Plano in Legacy Park
6840 North Dallas Parkway
Plano, Texas 75024
Phone: (972) 403-0802
Embassy Suites Dallas
7600 John Q. Hammons Drive
Frisco, TX 75034
Phone: (972) 712-7200
Nylo Plano at Legacy
8201 Preston Road
Plano, Texas 75024
Phone: (972) 624-6990
Aloft Plano
6853 North Dallas Parkway
Plano, TX 75024
Phone: 214-474-2520
---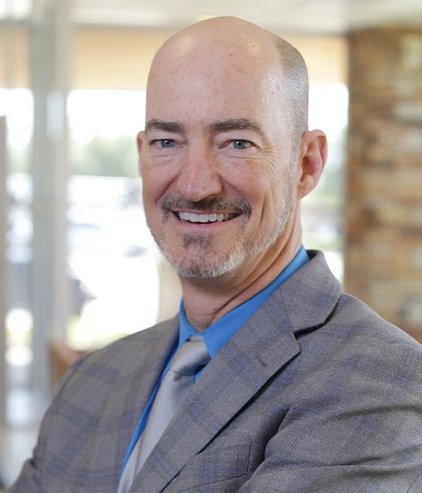 About the SGS Course Instructor:  Dr. Kent Smith
As Sleep Dallas' founding practitioner and chief medical officer, Dr. Kent Smith has been treating patients with sleep breathing disorders for more than 25 years at his two DFW-area locations. He is a trusted partner of sleep physicians and other medical professionals throughout the area and has helped more than 10,000 patients renew and preserve their health through effective sleep apnea and snoring treatment.