The Embletta system is the only PG device fully compliant with CMS and American Academy of Sleep Medicine recommendations for portable monitoring with two RIP technology channels, as well as a Nasal Pressure and Thermistor channel. The Embletta is the world standard for home sleep studies, boasting over half million studies worldwide, and has been designated by the American Sleep Medicine Foundation for use in their landmark study on Portable Monitoring in the Diagnosis and Management of Obstructive Sleep Apnea…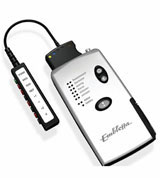 Studies are uploaded to a secure server. A board certified sleep professional will then interpret the study and provide recommendations. The concise report will be sent to you electronically to increase turnaround time. Detailed study reports including appropriate indices will be included with every report. This service is available in all states.
The price for SGS clients using the Embletta home sleep study device is $69/test. Prices for other devices and doctors who are not SGS clients vary. Please contact SGS for more information at 866-353-3936.
This is a valuable service for dentists, primary care physicians, ENT's and other SGS clients that are not sleep specialists but are using ambulatory sleep study instrumentation for diagnosing OSA. Prices for interpretation start at $69/study for SGS customers. We are able to work with a variety of home sleep study devices including the gold standard Embletta X100 along with the Medibyte, Watch-PAT, Stardust, Care Fusion T3, ApneaLink, Somte, Watermark ARES and others.
CLICK HERE to register for this service or contact us at info@sleepgs.com for more information.
Embletta X100
Available exclusively from SGS, the Embletta X100 represents a new dimension in home sleep testing available to dentists. Embletta X100 is one of the only devices that meets the guidelines recommended by the American Academy of Sleep Medicine and CMS (Medicare).
The Embletta system was introduced in 2000 and has a proven track record of success. With over 5,000 systems in use by sleep clinics and hospitals it is the most popular home sleep study device available.
The Embletta X100 boats an amazing set of features however one of the best features is something it doesn't have – high cost disposables. The per study cost of an Embletta X100 is only about $8.
More info on the SGS Home Sleep Testing Program (4.9 Mo).
What Does Embletta X100 Record?
Because of the versitile design of the Embletta, the system is capable of recording as much or as little information as the doctor wants.
10 Active Transducers
Airflow / Pressure (required by AASM for Level II, III system)
Thorax Effort Belt (required by AASM for Level II, III system)
Abdominal Effort Belt (required by AASM for Level II, III system)
Pulse Rate
Oximeter
EEG (required only for Level II system)
EOG (required only for Level II system)
EMG (required only for Level II system)
2 Passive Transducers
Body position sensor
Accelerometer
Insurance Reimbursement
Recently Medicare and private insurances have embraced portable monitoring as a diagnostic alternative to PSG. In doing so, they have put forth guidelines and requirements for various diagnostic levels. The Embletta X100 is a Level II system – capable of monitoring up to 12 channels of data including EEG. Because of its versitile design, it can also be set up as an easy-to-use Level III system. Many other home study devices do not fit the requirements for Level II or III and therefore may be denied coverage by many insurance carriers.
Use What the Experts Use!
Hundreds of sleep labs in North America use Embla PSG equipment and software as well as the Embletta portable monitors and RemLogic Software (included with each Embletta). The Embletta X100 represents a clinically elite solution for dentists that is on par with the medical gold standard.  Networking with sleep physicians will be that much easier when they see you are using the same level screening and diagnostic equipment that they are using.
Want More Information?
PDF Files
Embletta X100 Patient instruction demonstration