DATE/TIME
October (10/01/2020 - 10/04/2020)
8:00 am - 6:00 pm

LOCATION
OMNI FRISCO HOTEL
11 Cowboys Way
Frisco, TX, 75934
Phone:
(for hotel reservations only)
Note: Location may be subject to change.
INSTRUCTOR
Dr. Kent Smith
TYPE
LOCATION MAP
Map Unavailable
Click Here to View Other Seminar Dates
Over 75 Dates to Choose from
COURSE DESCRIPTION/AGENDA
Enhance your education and understanding of the dental sleep medicine field even further so that your patients are receiving the most effective care possible. The Roundtable is the #1 event for dental sleep professionals in the country, and you'll be able to hear from a wide range of experts regarding sleep apnea therapy, CPAP treatment, marketing/PR, insurance, and other vital fields – truly the best of the best. When attending this event, you will receive 15 continuing education credits.
$1095.00 each for doctors
$895.00 each for 1-3 team members
$795.00 each for 4 or more team members
This is a MUST attend for any dental office that is looking to implement a Sleep Protocol, or learn how to increase existing Sleep revenues.
Day 1
● Sleep 101 – sleep stages, disorders and the need for sleep apnea treatment
● Sleep apnea symptoms/clinical issues
● Improving Case Acceptance - Treating snoring and sleep apnea in a dental office.
● Prepare overnight home sleep study for select course attendees
● Hands on with Pharyngometer / Rhinometer for airway testing
● Working with Sleep Physicians and Building relationships with local MD's
Day 2
● Download previous night's Home Sleep Tests study and review study data and sleep report with class
● Dental Sleep Medicine step-by-step protocol flow chart
● Oral Appliance Pro's & Con's: Dorsal, Herbst, EMA, TAP, Panthera, and SomnoMed
● Case presentations and How to Market a Sleep Practice
● Review of the latest codes, fees, procedures with medical billing and Medicare.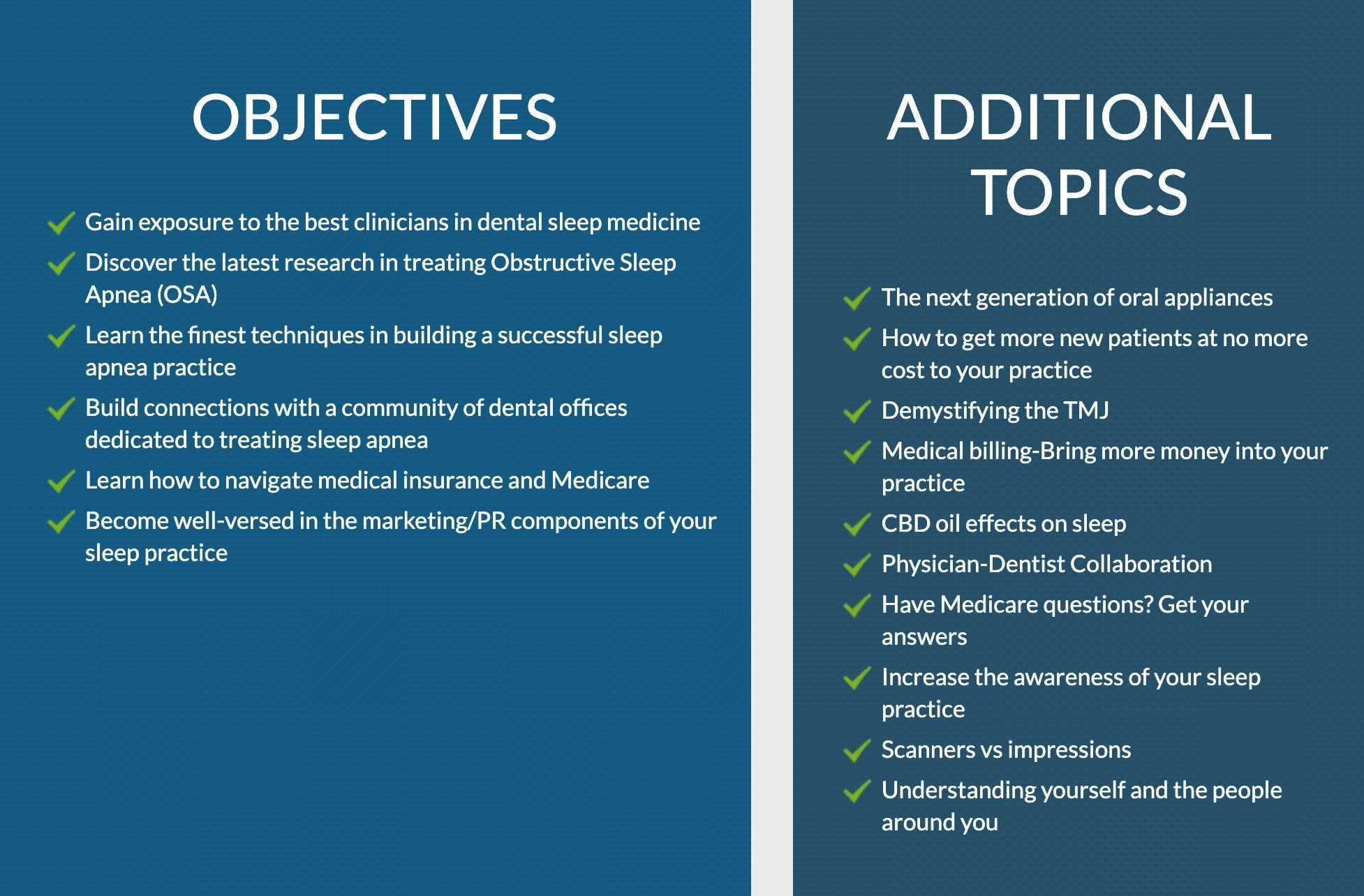 ---