DATE/TIME
October (10/18/2019 - 10/19/2019)
8:00 am - 5:00 pm

LOCATION
Maggiano's Little Italy (Houston)
602 Memorial City Mall
Houston, TX, 77024
Phone: NOT A HOTEL
(for hotel reservations only)
Note: Location may be subject to change.
INSTRUCTOR
Dr. Dan Tache
TYPE
LOCATION MAP
Map Unavailable
Click Here to View Other Seminar Dates
Over 75 Dates to Choose from
COURSE DESCRIPTION/AGENDA
This is a MUST attend for any dental office that is looking to implement a Sleep Protocol, or learn how to increase existing Sleep revenues.
Day 1
● Sleep 101 – sleep stages, disorders and the need for sleep apnea treatment
● Sleep apnea symptoms/clinical issues
● Improving Case Acceptance - Treating snoring and sleep apnea in a dental office.
● Prepare overnight home sleep study for select course attendees
● Hands on with Pharyngometer / Rhinometer for airway testing
● Working with Sleep Physicians and Building relationships with local MD's
Day 2
● Download previous night's Home Sleep Tests study and review study data and sleep report with class
● Dental Sleep Medicine step-by-step protocol flow chart
● Oral Appliance Pro's & Con's: Dorsal, Herbst, EMA, TAP, Panthera, and SomnoMed
● Case presentations and How to Market a Sleep Practice
● Review of the latest codes, fees, procedures with medical billing and Medicare.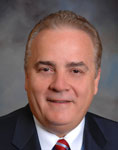 About the SGS Course Instructor: Dr. Dan Tache
A native of Salem, MA, Dr. Tache' has been practicing dentistry since 1975. He received his undergraduate degree from St. Anselm's College in Manchester, NH, and his Doctor of Dental Medicine degree from Tufts University School of Dental Medicine in 1974. Dr. Tache began lecturing for SGS in 2006 and served as President of the Wisconsin Sleep Society.
For 16 years, Dr. Tache' was in private practice in Houston, TX and served as a guest lecturer and assistant clinical professor at the University of Texas Dental Branch. During that time, he trained dentists in the field of tempromandibular dysfunction and orofacial pain. In 1999, he moved to Wisconsin and has placed the emphasis of his practice on the diagnosis and treatment of orofacial pain and TMD in Appleton, Green Bay and Manitowoc. Dr Tache' continues to lecture locally and nationally on the subjects of orofacial pain & sleep apnea and the pivotal role now placed by the qualified dentist in the management of these serious modalities.