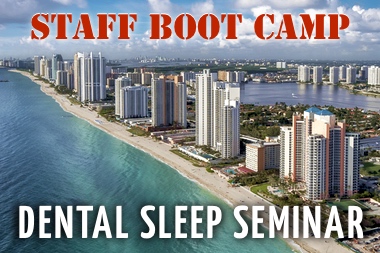 DATE/TIME
August (08/17/2018 - 08/18/2018)
9:30 am - 5:00 pm
LOCATION
Circ Hotel
1780 Polk Street
Hollywood, FL, 33020
Phone: 954- 500-1780 (for hotel reservations only)
COURSE DESCRIPTION/AGENDA
This is a MUST for the dental team members involved in Dental Sleep Medicine screening and treatment. This 2 day weekend course will give the educational requirements to achieve Dental Sleep Coordinator Specialists Certification with the American Sleep and Breathing Academy.
Boot Camp Agenda:
Become an integral part of the interdisciplinary dental sleep medicine team.
This course is designed for the dental office auxiliary and clinical team members
The Sleep Group Solutions Boot Camp, in association with the ASBA, is built around supporting dental team members involved in DSM screening and treatment. The program will provide a two-day, hands-on training dedicated to their particular roles in snoring and sleep apnea screening and treatment, as well as oral appliance therapy. The two-day program will fous on patient care, team coordination, case creation and presentation, marketing, insurance billing and collections.

This is a MUST attend for any dental office that is looking to implement a Sleep Protocol, or learn how to increase existing Sleep revenues.
Day 1
● Introduction to sleep – sleep stages, disorders
● Sleep apnea prevalence – why is there a need for treatment
● Sleep apnea symptoms/clinical issues
● Treating snoring and sleep apnea in a dental office – protocol review
● Patient education; addressing key issues and getting a snoring patient to convert to a sleep apnea treatment case
● Prepare overnight home sleep study for select course attendees
● Hands on with Pharyngometer / Rhinometer
● Working with Sleep Physicians
Day 2
● Download previous night' s Home Sleep Tests study and review study data and sleep report with class
● Dental Sleep Medicine step-by-step protocol flow chart
● All appliances will be discussed -- Dorsal, Herbst, EMA, TAP, Panthera, Somno Med, Narval
● Appliance review – pro's and con's of all of the major sleep appliances
● Case presentations
● Medical insurance billing. Review of the latest codes, fees, procedures and recommendations from SGS experts who are doing this daily
● Dental Sleep Protocol recap from A-Z
Dental Office Staff Boot Camp
A training course for dental office staff.
This Boot Camp is one-of-a-kind and will get the office staff excited and prepared to successfully implement Dental Sleep Medicine into your daily routine.
We will cover office protocols and how to implement them, the forms to be used for your patients, and how to properly document and record medical records for each patient. We will cover insurance and billing – sometimes the toughest part of getting started in the office. Hands-on training with the Eccovision for airway testing techniques and oral appliance therapy.
Earn 16 CEUs. Lunch is provided.
Space is limited, 2 staff members per practice.