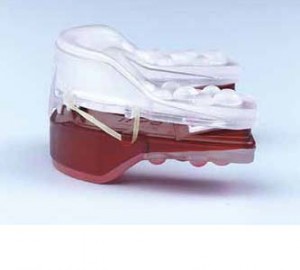 It is a "boil & bite" appliance which means it can be fit and delivered to a patient immediately without waiting for lab fabrication. This makes it an ideal temporary appliance to use when patients need to undergo dental work or if they've lost or damaged their existing appliance. The strong construction of the NORAD will hold up to many months and even years of use making this boil & bite appliance even more versitile.
Many of the features found on the NORAD have never been available in a boil & bite appliance before and some are not even available on much more expensive lab fabricated appliances.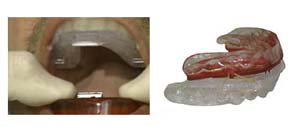 Some of the features and benefits include:
Boil & Bite thermal material – immediate chairside fabrication and delivery
No waiting for lab fabrication
Ideal for use as a temporary appliance
Unlimited lateral mobility
Adjustable vertical and protrusive positions
Ability to open vertical with appliance in place
Very good retention
Low profile (minimum vertical just 5mm)
See the Video section for NORAD informational and technical videos
Pricing
NORAD Appliances are available for $99/ea
Obstructive sleep apnea (OSA) is a serious and potentially life threatening disease. Respire, has developed a range of oral sleep devices designed to assist patients in the treatment of this condition. When selecting an oral sleep device we believe that one design is not suitable for all patients needs.  Each recognizable device has a different function, and each with a different color.